Nourishing Body Lotion
Regular price

Rs.2,200.00

Regular price

Rs.1,800.00

Sale price

Rs.2,200.00
A lightweight, nourishing formula to significantly moisturize the skin for up to 24 hours. A luxuriously nourishing formula for skin that feels silky smooth. This lightweight formula is perfect to use all year and is formulated with Apricot Kernel Oil and Wheatgerm Oil to give you a super smooth skin. Moisturizing shea butter & cocoa butter along with antioxidant rich vitamin E help to tone, brighten and protect the skin.
Ingredients

Aqua(Water), cetearyl alcohol & PEG-20 stearate, Glycerin(Vegetable),
Usage & Precaution

For all skin types - Fragrance Free

How to use:

Apply to damp skin after shower/bath, apply in morning or night as needed
Shipping Information

We offer free shipping on orders over Rs2000/-

Standard shipping charges Rs200/-

Delivery Time 2-3 working days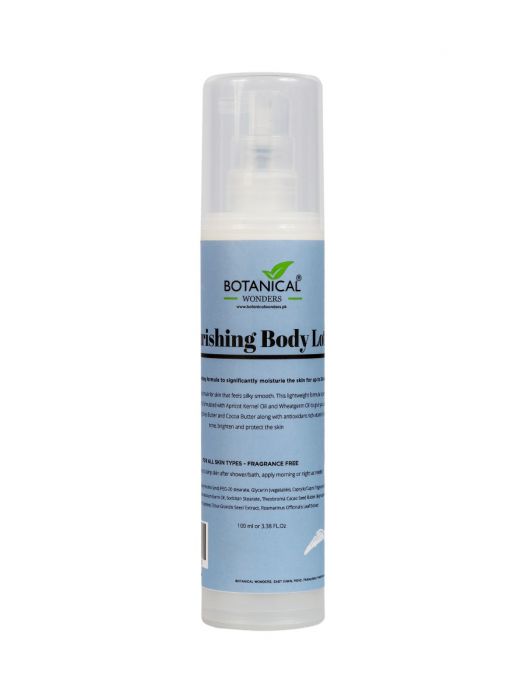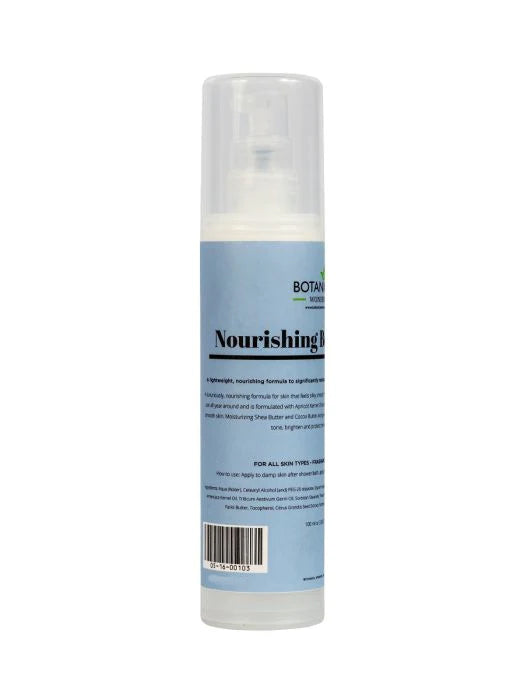 Why Botanical Wonders?
100% Organic
Cruelty Free
Paraben Free
Halal
FAQ's
Are your products organic / natural?

Our products combine the power of naturally occurring and advanced science ingredients that are simple to use, highly effective, non-toxic, non-irritating, and absolutely cruelty-free. We do not use aggressive, irritating ingredients. Beyond this, we do not like labels such as 'organic,' 'natural' or 'clean,' which have no consistent definition and tell you nothing about a product's safety or efficacy. We are committed to bringing you the very best ingredient science and being certified "organic" does not always yield the best ingredient.
What is the shelf life of my product?

All beauty products need to be used by a certain period. This is known as the 'period after opening' and can be easily identified by the PAO symbol. The symbol can be recognised as the shape of an opened jar, and will have a number inside; 9M will indicate 9 months, 12M is 12 months, and 36M is 36 months. Once opened the product should be used in this period, as after this time the quality of the product will deteriorate.
Do your products contain parabens & phthalates?

None of our products contain any parabens & phthalates.

For more information on the ingredients for individual products, see the ingredients tab on the product page.