Bergamot Essential Oil 10 ML
Regular price

Rs.1,200.00

Regular price

Rs.850.00

Sale price

Rs.1,200.00
Bergamot is the most delicate of the citrus plants. Europeans have used Bergamot for years to reduce feeling of stress and to soothe and rejuvenate skin. Bergamot is unique among the citrus oils due to its ability for being both calming and uplifting, making it ideal to help with anxious and sad feelings. It is also purifying and cleansing for the skin while having a calming effect. Bergamot oil has a very sweet smell and acts as an excellent natural deodorant. Bergamot oil if regularly used by adding a little to the bath water is known to reduce infections of any kind, as it is both antiseptic and disinfectant. It can help soothe inflammation and can even be applied on the stomach to aid healthy digestion.
Ingredients

100% Pure Undiluted Bergamot Oil
Usage & Precaution

Caution:

Possible skin sensitivity; always do a patch test. Keep out of reach of children. If you are pregnant, nursing, or under a doctor's care, consult your physician. Avoid contact with eyes, inner ears, and sensitive areas. Bergamot essential oil displays photo-toxicity, always use a screen after using it and avoid going directly under the sun right after application. Store in a cool, dark place.

Shelf Life:
-After opening should be used within one year.

How to use:

Add 1-2 drops in your DIY skin cleanser for deep cleansing
Use 3-4 drops in a diffuser of our choice, in the work place or at home to reduce stress level or when tension is high
Apply to the skin while showering and inhale deeply to experience its calming aroma while enjoying its purifying skin benefits
Apply to the feet at bedtime for deep relaxation
Use it as an antiseptic to treat infections, cracks in the heels, wounds, bruises and eczema
Mix a few drops with olive oil and use as a pain reliever by massaging the affected area, known greatly for menstrual cramps
Add a few drops to any carrier oil and use as a massage oil for a relaxing and uplifting massage at the same time
Sprinkle a few drops on your pillow for having a good night sleep
Use a few drops in a steamer as Bergamot acts as an anti-congestive to relieve congestion and respiratory issues
Shipping Information

We offer free shipping on orders over Rs2000/-

Standard shipping charges Rs200/-

Delivery Time 2-3 working days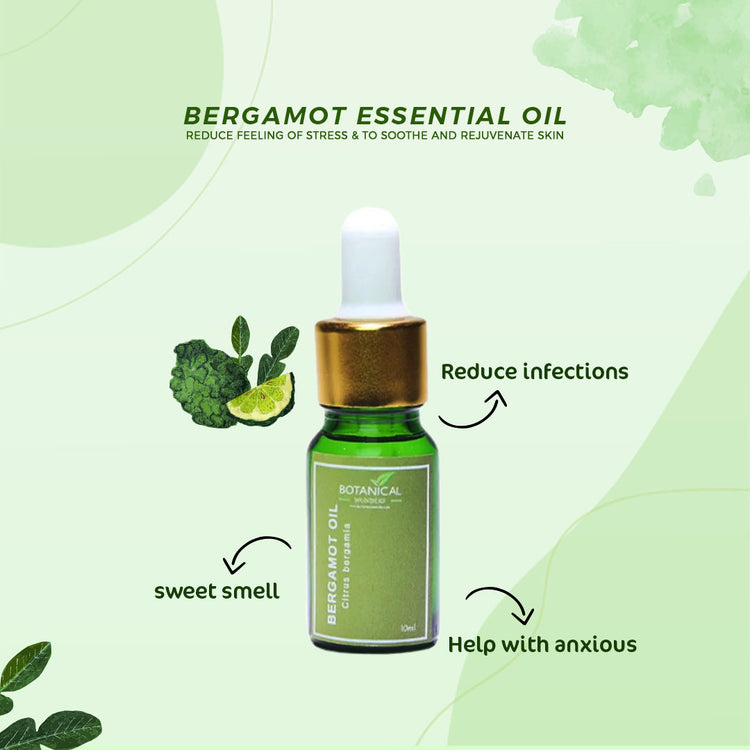 Why Botanical Wonders?
100% Organic
Cruelty Free
Paraben Free
Halal
FAQ's
Are your products organic / natural?

Our products combine the power of naturally occurring and advanced science ingredients that are simple to use, highly effective, non-toxic, non-irritating, and absolutely cruelty-free. We do not use aggressive, irritating ingredients. Beyond this, we do not like labels such as 'organic,' 'natural' or 'clean,' which have no consistent definition and tell you nothing about a product's safety or efficacy. We are committed to bringing you the very best ingredient science and being certified "organic" does not always yield the best ingredient.
What is the shelf life of my product?

All beauty products need to be used by a certain period. This is known as the 'period after opening' and can be easily identified by the PAO symbol. The symbol can be recognised as the shape of an opened jar, and will have a number inside; 9M will indicate 9 months, 12M is 12 months, and 36M is 36 months. Once opened the product should be used in this period, as after this time the quality of the product will deteriorate.
Do your products contain parabens & phthalates?

None of our products contain any parabens & phthalates.

For more information on the ingredients for individual products, see the ingredients tab on the product page.