Neem Oil 10 ml
Regular price

Rs.1,075.00

Regular price

Rs.825.00

Sale price

Rs.1,075.00
Neem tree is a very popular specie in our side of the World. Neem oil is one of the very versatile essential oils; which is loaded with nutrients. It has a very high level of antioxidants and vitamin E, which makes it very beneficial for skin care especially when it comes to rescuing skin from the free radical damage. Neem oil is also high in essential fatty acids and therefor it is great to heal dry and damaged skin and also has great anti-aging properties. Neem oil is a super food for your hair, it can improve all hair conditions from dry, thinning, frizzy hair to helping with hair loss, promoting hair growth and getting rid of lice. Neem oil is anti-bacterial and a great natural remedy for acne and preventing infections. Neem oil can also be used as a mosquito repellent or as treatment for bed bugs.
Ingredients

Pure undiluted Neem Essential Oil
Usage & Precaution

Caution:

Possible skin sensitivity; always do a patch test. Keep out of reach of children. If you are pregnant, nursing, or under a doctor's care, consult your physician. Avoid contact with eyes, inner ears, and sensitive areas. Always dilute the essential oil with any carrier oil (coconut oil, almond oil, jojoba oil, etc) to avoid skin sensitivity.

Shelf Life:
-After opening should be used within one year.

Precautions:
-Avoid getting the product into the eyes. If it occurs, rinse thoroughly with water.

How to use:

Add 2-3 drops in your moisturizer or coconut oil to condition dry skin, calm down eczema or psoriasis or to counteract the effect of sun damage
Add a drop to a teaspoon of olive oil or jojoba oil and use this mixture as a spot treatment for acne or to lighten skin pigmentation
Use it as an antiseptic to treat minor infections, cuts or bruises
Dip cotton balls in neem oil and wipe around doors and windows for natural pest control
Treat nail fungus infection; put 2-3 drops on the infected nail and allow it to soak in, use it 2-3 times a day and till infection is cured
Add a few drops of neem oil to your shampoo or massage in your hair to treat dandruff or infection in the scalp
Mix a few drops of neem oil with any carrier oil and use it on your hair to treat hair loss, itchy scalp, split ends and hair lice
Shipping Information

We offer free shipping on orders over Rs2000/-

Standard shipping charges Rs200/-

Delivery Time 2-3 working days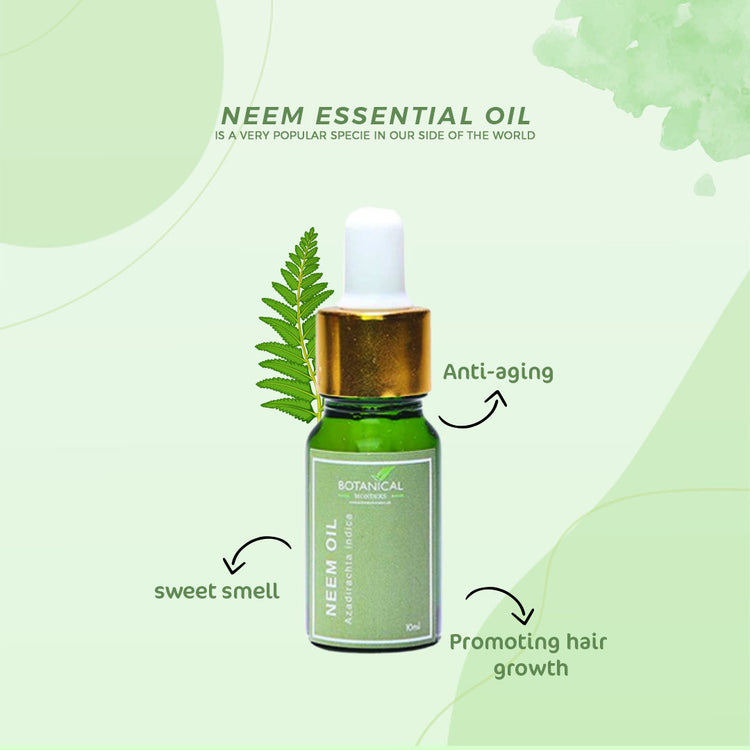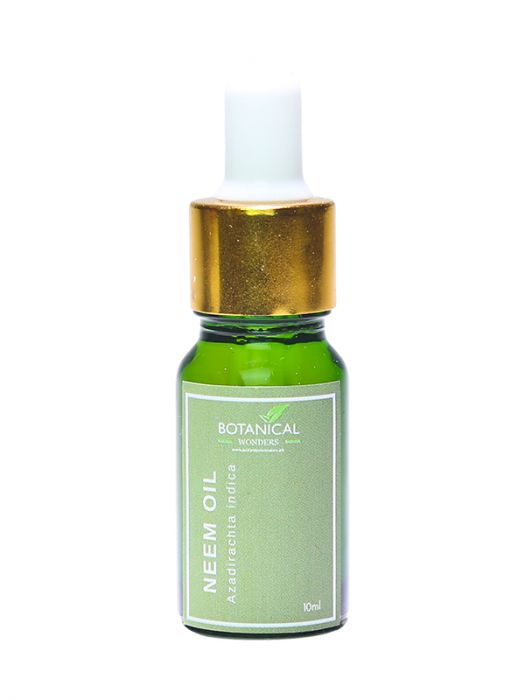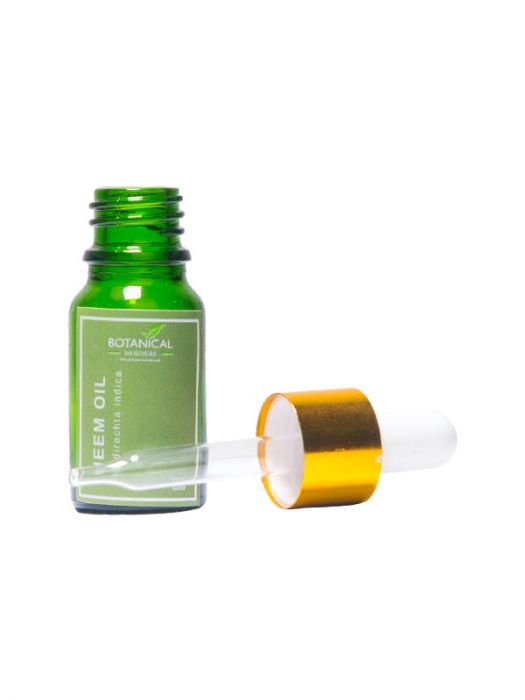 Why Botanical Wonders?
100% Organic
Cruelty Free
Paraben Free
Halal
FAQ's
Are your products organic / natural?

Our products combine the power of naturally occurring and advanced science ingredients that are simple to use, highly effective, non-toxic, non-irritating, and absolutely cruelty-free. We do not use aggressive, irritating ingredients. Beyond this, we do not like labels such as 'organic,' 'natural' or 'clean,' which have no consistent definition and tell you nothing about a product's safety or efficacy. We are committed to bringing you the very best ingredient science and being certified "organic" does not always yield the best ingredient.
What is the shelf life of my product?

All beauty products need to be used by a certain period. This is known as the 'period after opening' and can be easily identified by the PAO symbol. The symbol can be recognised as the shape of an opened jar, and will have a number inside; 9M will indicate 9 months, 12M is 12 months, and 36M is 36 months. Once opened the product should be used in this period, as after this time the quality of the product will deteriorate.
Do your products contain parabens & phthalates?

None of our products contain any parabens & phthalates.

For more information on the ingredients for individual products, see the ingredients tab on the product page.