Eucalyptus Essential Oil 10 ML
Regular price

Rs.1,000.00

Regular price

Rs.650.00

Sale price

Rs.1,000.00
Eucalyptus oil has wonderful multi-faceted medicinal properties. So its not surprising that it is found in various over-the-counter medicines and grocery items specially in cold rubs, air cleaners, cough and cold medicines, inhalers, soaps, rash creams and many more. Eucalyptus oil is an ideal oil to promote feeling of clear breathing and open airways and for creating a soothing massage experience. Eucalyptus has purifying properties that can be beneficial for the skin and for cleansing surfaces and the air. Studies have shown that eucalyptus oil is effective for relieving tension and stress.il, almond oil, jojoba oil, etc) to avoid skin sensitivity.
Ingredients

100% Pure Undiluted Eucalyptus Essential Oil
Usage & Precaution

How to use:

Combine with lemon oil and peppermint oil in a spray bottle and use for cleaning surfaces in your kitchen and bathroom
Add one drop to moisturizer and apply to skin for revitalizing benefits
During bath, put few drops in your palm, place on your nose and inhale deeply to invigorate and promote vitality
Add 3-4 drops in a diffuser of your choice to purify the air, or breathe in medicinal vapors all night long
Add 5-10 drops in boiling water and inhale for unclogging nasal passages
Eucalyptus oil is great for hair nourishment and can be mixed with any carrier oil, massage this blend to stimulate the blood flow in your head
Massaging eucalyptus oil in your head is a great remedy for an itchy scalp and keeping the lice at bay
Eucalyptus oil can be use to keep insects away, add a few drops of eucalyptus oil in coconut oil and rub gently on the desired area to keep all the bugs away
Heal cold sores by mixing a drop of eucalyptus oil with a drop of tea tree oil and coconut oil by applying this mixture 3-4 times a day
Add a few drops to any carrier oil for a revitalizing massage or relieving muscle pain

Caution:

Possible skin sensitivity; always do a patch test. Keep out of reach of children. If you are pregnant, nursing, or under a doctor's care, consult your physician. Avoid contact with eyes, inner ears, and sensitive areas. Always dilute the essential oil with any carrier oil (coconut oil, almond oil, jojoba oil, etc) to avoid skin sensitivity.

Shelf Life:
-After opening should be used within one year.

Precautions:
-Avoid getting the product into the eyes. If it occurs, rinse thoroughly with water.
Shipping Information

We offer free shipping on orders over Rs2000/-

Standard shipping charges Rs200/-

Delivery Time 2-3 working days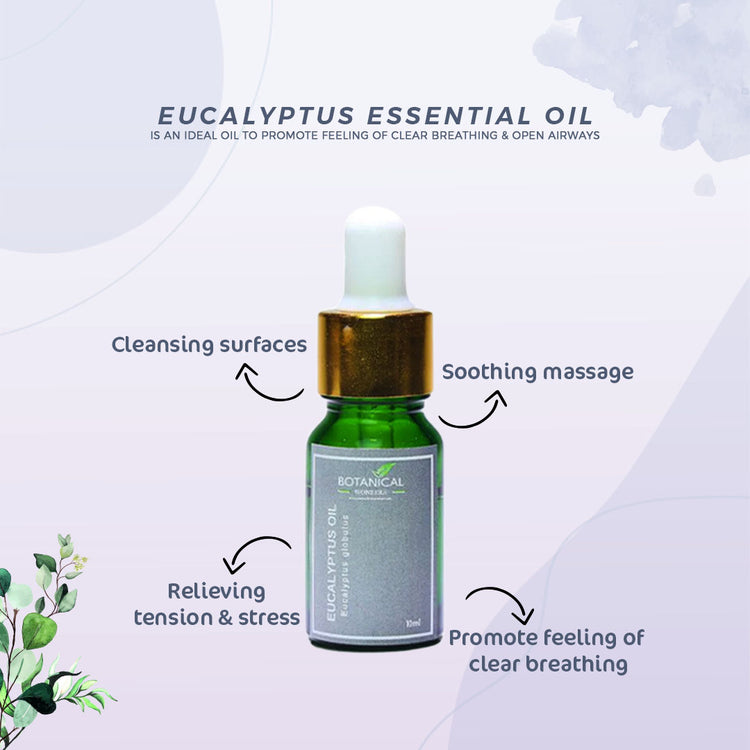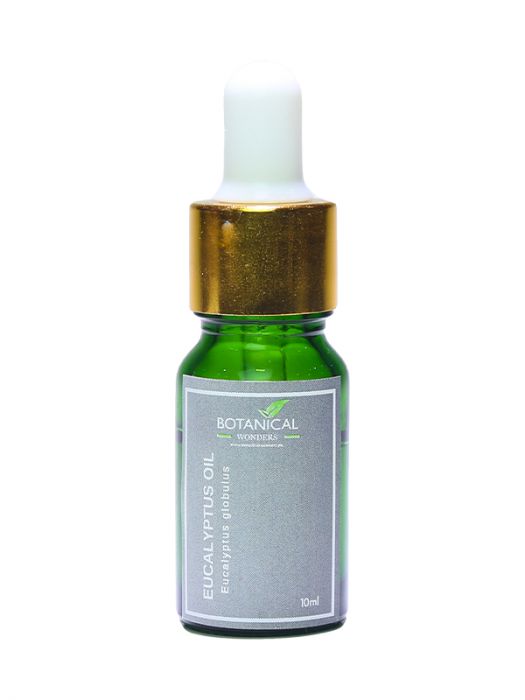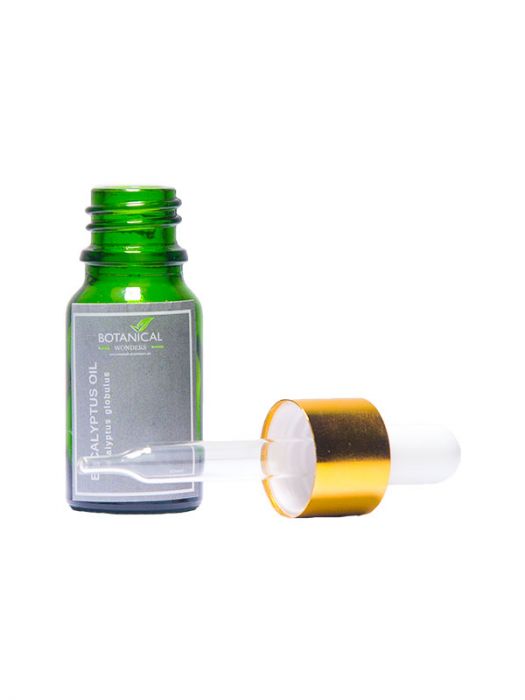 Why Botanical Wonders?
100% Organic
Cruelty Free
Paraben Free
Halal
FAQ's
Are your products organic / natural?

Our products combine the power of naturally occurring and advanced science ingredients that are simple to use, highly effective, non-toxic, non-irritating, and absolutely cruelty-free. We do not use aggressive, irritating ingredients. Beyond this, we do not like labels such as 'organic,' 'natural' or 'clean,' which have no consistent definition and tell you nothing about a product's safety or efficacy. We are committed to bringing you the very best ingredient science and being certified "organic" does not always yield the best ingredient.
What is the shelf life of my product?

All beauty products need to be used by a certain period. This is known as the 'period after opening' and can be easily identified by the PAO symbol. The symbol can be recognised as the shape of an opened jar, and will have a number inside; 9M will indicate 9 months, 12M is 12 months, and 36M is 36 months. Once opened the product should be used in this period, as after this time the quality of the product will deteriorate.
Do your products contain parabens & phthalates?

None of our products contain any parabens & phthalates.

For more information on the ingredients for individual products, see the ingredients tab on the product page.