Orange Essential Oil 10 ML
Regular price

Rs.2,200.00

Regular price

Rs.1,600.00

Sale price

Rs.2,200.00
Orange essential oil comes with its energizing aroma and multiple health benefits. It is antiseptic and anti-inflammatory which makes it ideal to add in your skin and hair routine. When used on skin it increases the ability to absorb vitamin C, collagen production and blood flow, so it is a must have if you're looking for a youthful skin.  Orange essential oil is derived from the oils of the orange peel, making the essential oil a powerful source of all the benefits oranges have. This essential oil is light enough to use for under eye brightness, and is also great as an anti-aging product; continuous use can decrease wrinkles and fine lines. As this oil is a light oil, it is great to use for people with sensitive skin. Apart from the beauty benefits, orange oil has great health benefits, it is known to disinfect wounds, relieve inflammation, prevents infection, treats acne and much more. Its uplifting aroma makes it ideal for an aromatic diffuser or adding to your favorite massage oil blend.
Ingredients

100% Pure Undiluted Orange Essential Oil
Usage & Precaution

How to use:

Add 2-3 drops to your night cream/oil for skin brightening and anti-aging effect
Add 1-2 drops in almond oil or coconut oil and use it as a brightening under eye cream
Add 4-5 drops in any carrier oil for a mood uplifting massage, relieving stress and anxiety
Add 2-3 drops to your exfoliator, for a glowing body and removing dead skin
Add 3-4 drops in a reed diffuser with any carrier oil for fresh citrusy aroma
Add 5-6 drops in a diffuser with water for health benefits

Caution:

Possible skin sensitivity; always do a patch test. Keep out of reach of children. If you are pregnant, nursing, or under a doctor's care, consult your physician. Avoid contact with eyes, inner ears, and sensitive areas. Orange essential oil displays photo-toxicity, always use a screen after using it and avoid going directly under the sun right after application.

Shelf Life:
-After opening should be used within one year.

Precautions:
-Avoid getting the product into the eyes. If it occurs, rinse thoroughly with water.
Shipping Information

We offer free shipping on orders over Rs2000/-

Standard shipping charges Rs200/-

Delivery Time 2-3 working days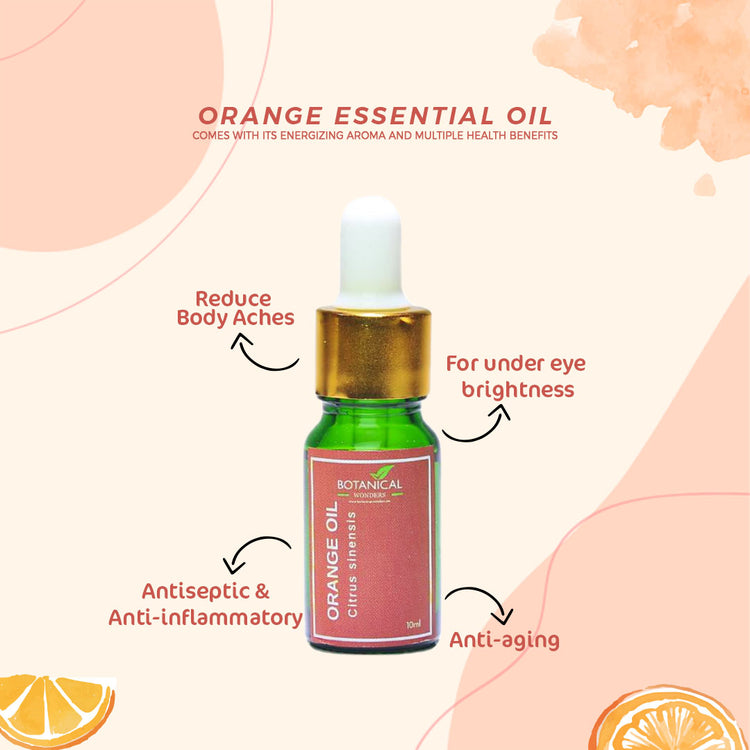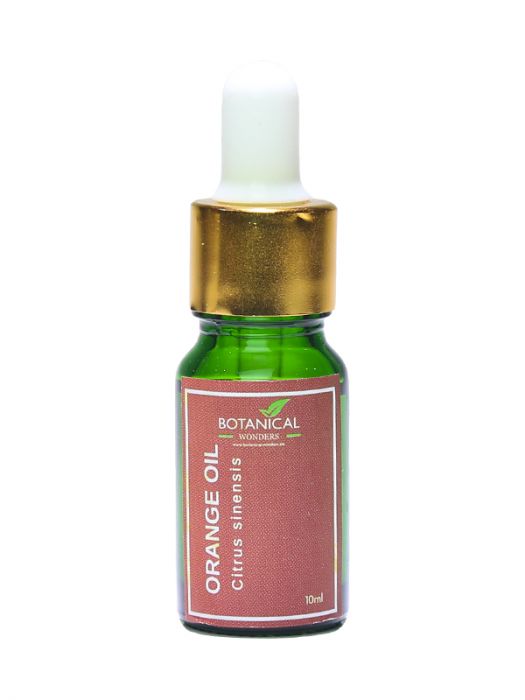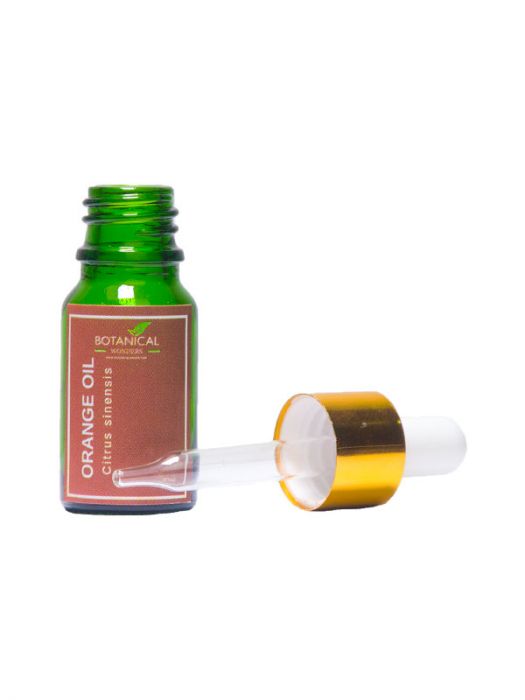 Why Botanical Wonders?
100% Organic
Cruelty Free
Paraben Free
Halal
FAQ's
Are your products organic / natural?

Our products combine the power of naturally occurring and advanced science ingredients that are simple to use, highly effective, non-toxic, non-irritating, and absolutely cruelty-free. We do not use aggressive, irritating ingredients. Beyond this, we do not like labels such as 'organic,' 'natural' or 'clean,' which have no consistent definition and tell you nothing about a product's safety or efficacy. We are committed to bringing you the very best ingredient science and being certified "organic" does not always yield the best ingredient.
What is the shelf life of my product?

All beauty products need to be used by a certain period. This is known as the 'period after opening' and can be easily identified by the PAO symbol. The symbol can be recognised as the shape of an opened jar, and will have a number inside; 9M will indicate 9 months, 12M is 12 months, and 36M is 36 months. Once opened the product should be used in this period, as after this time the quality of the product will deteriorate.
Do your products contain parabens & phthalates?

None of our products contain any parabens & phthalates.

For more information on the ingredients for individual products, see the ingredients tab on the product page.