Lemon Essential Oil 10 ML
Regular price

Rs.2,500.00

Regular price

Rs.1,800.00

Sale price

Rs.2,500.00
Lemon essential oil true to its name has amazing health benefits, it is stimulating and calming at the same time.  This yummy citric fruit oil is not just good for uplifting our mood and concentration, but can also be used to help with fever, infections, asthma, obesity, skin disorders, hair conditions and many more. Lemon oil works in many areas of your life, from household cleaning to supporting brain energy and freshening the air. Lemon oil is a good remedy for restoring luster to dull skin, its antiseptic properties helps in treating pimples and various skin disorders.
Ingredients

Pure Undiluted Lemon essential Oil
Usage & Precaution

How to use:

Add 2-3 drops of essential oil to 4 cups of steaming water for facial steaming for skin brightening.
Add a few drops to your facial cleanser or moisturizer for lightening and brightening your skin.
Use 5-6 drops in a diffuser to create an uplifting environment.
Inhaling lemon oil can lead to clearing of nasal passages and sinuses, promoting good air flow and steady breathing.
Add 4-5 drops to any carrier oil and massage your hair for healthy, dandruff free, shiny hair.
Lemon oil is a great remedy for early stages of tarnish on silvers and other metals.
Add 2-3 drops of lemon oil to your favorite carrier oil to create an uplifting and calming massage oil.

Add Lemon oil to a spray bottle of water to clean tables, countertops, and other surfaces. Lemon oil also makes a great furniture polish; simply add a few drops to olive oil to clean, protect, and shine wood finishes.

Caution:

Possible skin sensitivity; always do a patch test. Keep out of reach of children. If you are pregnant, nursing, or under a doctor's care, consult your physician. Avoid contact with eyes, inner ears, and sensitive areas. Avoid sunlight or UV rays for up to 12 hours after applying lemon oil; always protect your skin with a FPS sunscreen.

Shelf Life:
-After opening should be used within one year.

Precautions:
-Avoid getting the product into the eyes. If it occurs, rinse thoroughly with water.
Shipping Information

We offer free shipping on orders over Rs2000/-

Standard shipping charges Rs200/-

Delivery Time 2-3 working days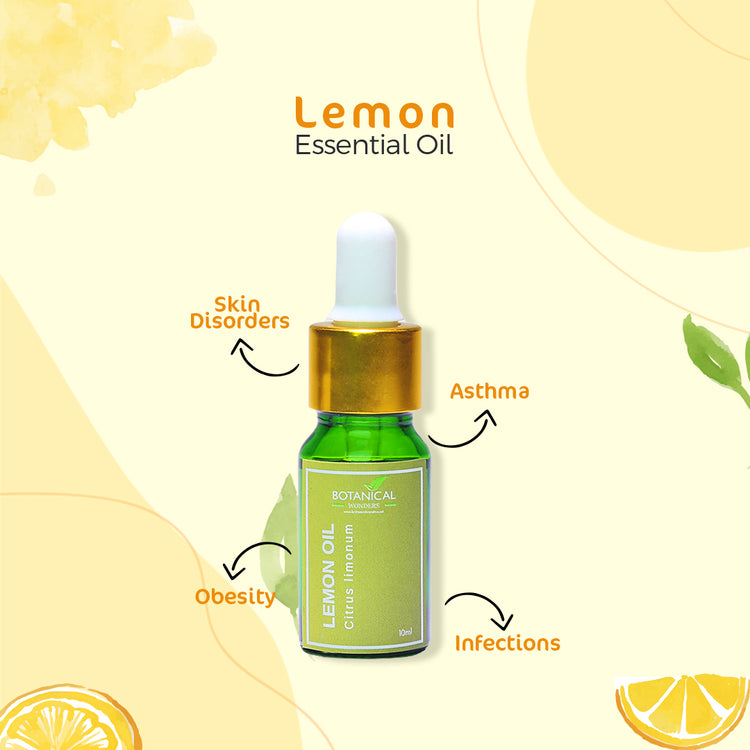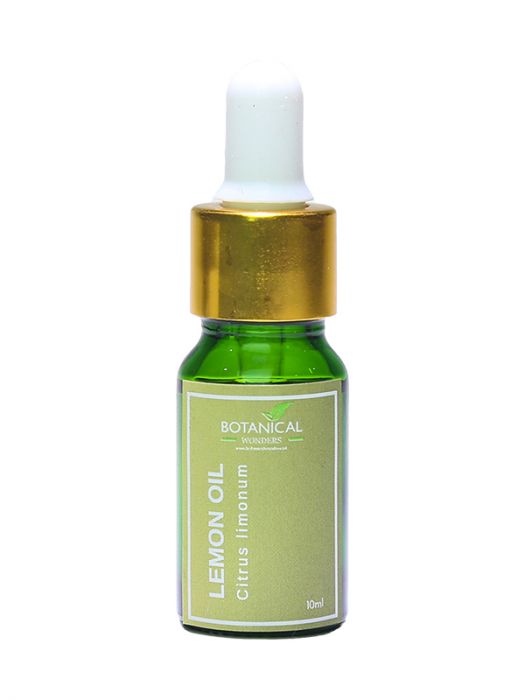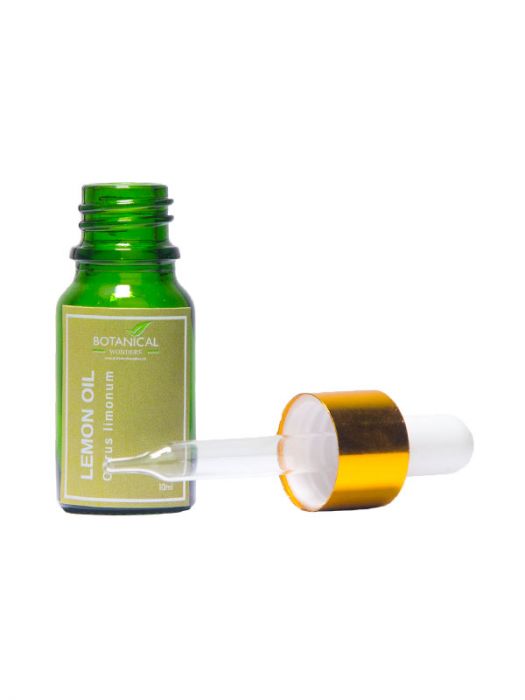 Why Botanical Wonders?
100% Organic
Cruelty Free
Paraben Free
Halal
FAQ's
Are your products organic / natural?

Our products combine the power of naturally occurring and advanced science ingredients that are simple to use, highly effective, non-toxic, non-irritating, and absolutely cruelty-free. We do not use aggressive, irritating ingredients. Beyond this, we do not like labels such as 'organic,' 'natural' or 'clean,' which have no consistent definition and tell you nothing about a product's safety or efficacy. We are committed to bringing you the very best ingredient science and being certified "organic" does not always yield the best ingredient.
What is the shelf life of my product?

All beauty products need to be used by a certain period. This is known as the 'period after opening' and can be easily identified by the PAO symbol. The symbol can be recognised as the shape of an opened jar, and will have a number inside; 9M will indicate 9 months, 12M is 12 months, and 36M is 36 months. Once opened the product should be used in this period, as after this time the quality of the product will deteriorate.
Do your products contain parabens & phthalates?

None of our products contain any parabens & phthalates.

For more information on the ingredients for individual products, see the ingredients tab on the product page.