Evening Primrose Essential Oil 10 ML
Regular price

Rs.1,400.00

Regular price

Rs.1,000.00

Sale price

Rs.1,400.00
This oil comes from the seeds of a beautiful plant called Evening Primrose. It has traditionally been referred as 'King's cure-all' due to the belief that its majestic benefits and honorable properties made it fit for kings and queens to apply medically. Evening Primrose oil is high in Omega-6 and nourishes both the skin and the scalp with essential fatty acids. It soothes and moisturizes the skin while enhancing elasticity. Furthermore, it promotes a healthy, clear, rejuvenated complexion with enhanced radiance and addresses roughness, wrinkles, redness, dryness, and irritation. It facilitates the healing process, reduces the appearance of scars, and calms inflammation. All these properties make it an idea solution for acne, eczema, and psoriasis. Evening primrose oil is also great for hair growth, makes them healthier and stronger.
Ingredients

100% Pure Undiluted Evening primrose oil
Usage & Precaution

How to use:

You can simple take two drops in your palm, warm the oil with your fingers and gently massage it on your face. For acne or dark spots, use it as a spot treatment. Before you wash your hair, massage a small amount of oil into your scalp to boost blood circulation and encourage new hair cells to form while getting rid of any dandruff.
Shipping Information

We offer free shipping on orders over Rs2000/-

Standard shipping charges Rs200/-

Delivery Time 2-3 working days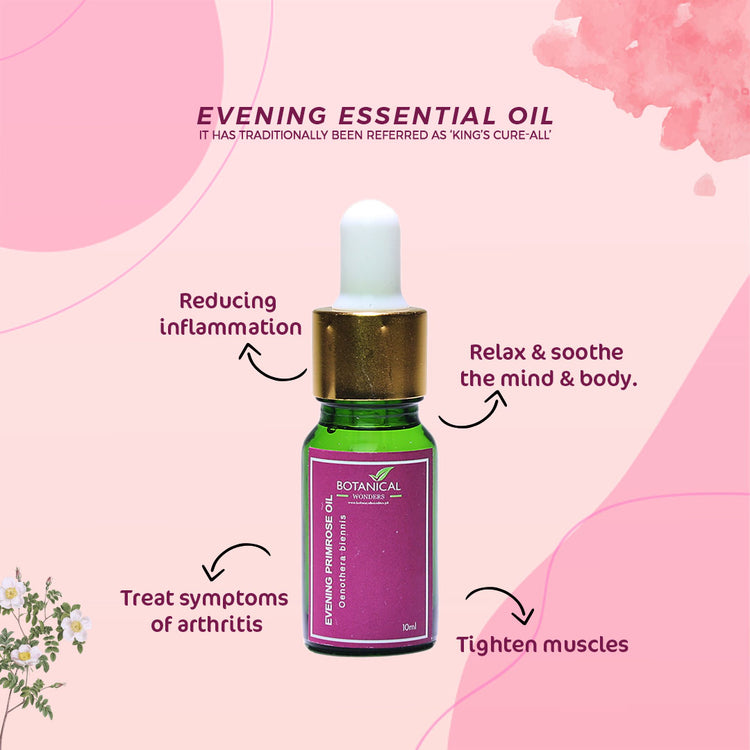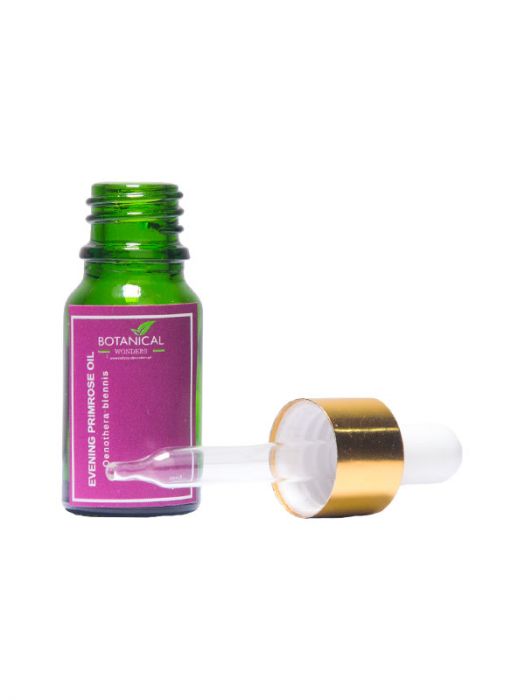 Why Botanical Wonders?
100% Organic
Cruelty Free
Paraben Free
Halal
FAQ's
Are your products organic / natural?

Our products combine the power of naturally occurring and advanced science ingredients that are simple to use, highly effective, non-toxic, non-irritating, and absolutely cruelty-free. We do not use aggressive, irritating ingredients. Beyond this, we do not like labels such as 'organic,' 'natural' or 'clean,' which have no consistent definition and tell you nothing about a product's safety or efficacy. We are committed to bringing you the very best ingredient science and being certified "organic" does not always yield the best ingredient.
What is the shelf life of my product?

All beauty products need to be used by a certain period. This is known as the 'period after opening' and can be easily identified by the PAO symbol. The symbol can be recognised as the shape of an opened jar, and will have a number inside; 9M will indicate 9 months, 12M is 12 months, and 36M is 36 months. Once opened the product should be used in this period, as after this time the quality of the product will deteriorate.
Do your products contain parabens & phthalates?

None of our products contain any parabens & phthalates.

For more information on the ingredients for individual products, see the ingredients tab on the product page.